An Arts and Crafts House by CFA Voysey
The House
Perrycroft was designed by the architect CFA Voysey, and was built in 1895 for  John W Wilson, a Birmingham industrialist and Member of Parliament.  Perrycroft represents an Edwardian ideal, a dream house set in the magnificent scenery of the Malvern Hills. Today the house stands remarkably untouched by time, a romantic and secluded haven high on the west side of the Malvern Hills, with magnificent views over rolling Herefordshire towards Wales.
The Garden
Voysey was not known as a designer of gardens, and although traces of the original garden remain, the present garden has been created over the last 23 years, with yew and box hedges, cottage style planting and wildlife areas reflecting the Arts and Crafts heritage. As well as beautiful vistas to the west, the garden enjoys a unique view of the Herefordshire Beacon, or British Camp, looking south on to its most romantic and distinctive profile. Extending to about 10 acres, with formal and informal garden rooms, topiary, herbaceous and mixed borders, meadows, ponds and woodland there is something for everyone to enjoy in all seasons.
Visiting the Garden
The garden is open on certain days a year for the National Gardens Scheme.  The dates vary from year to year – for details please consult the NGS website.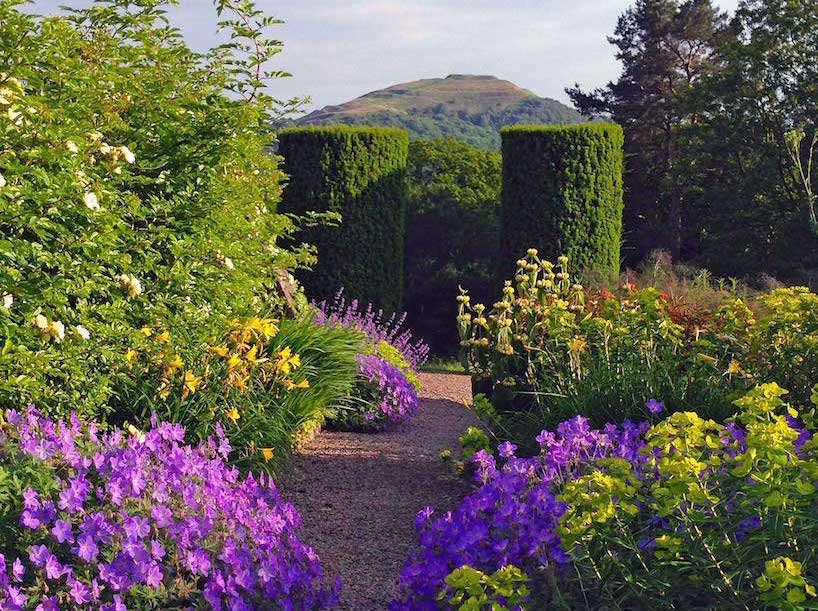 Book a Visit
Please contact Gillian Archer at info@perrycroft.co.uk or 07858 393767, or write to:
Perrycroft
Jubilee Drive
Upper Colwall
Malvern
WR13 6DN